RoofStar's Spray Polyurethane Foam (SPF) Roofing Silicone Solution
Spray Polyurethane Foam (SPF) is an eco-friendly roofing option for commercial, industrial and manufacturing facilities.
Roofstar is first company in Quebec to install Spray Polyurethane Foam Roofs coated with Silicone.
While SPF roofing is not the most commonly known type of roofing material, the technology has been around since the early 1960s for industrial, commercial, and residential facilities. An SPF roofing system can be used in any climate, and when correctly installed and maintained, can last over 50 years.
The obvious advantage to spray foam insulation is the energy savings. Spray foam insulation provides the highest R-value for any insulation product on the market today. Interior temperature is more easily controlled which equates to less money being required for monthly utility costs and less wear & tear and maintenance costs associated with maintaining HVAC equipment.
SPF roofs only utilize strong, high-density closed-cell foam, although it is considerably less dense than other roofing materials and adds little additional weight to the roof. Due to its ability to adhere to a wide variety of substrates, SPF roofs are the perfect solution for reroofing applications. Also, spray foam roofs are more robust than other roofing systems, offering high wind uplift resistance.
What is Spray Polyurethane Foam?
Spray Polyurethane Foam or SPF is made up of two component insulation materials that are applied using high-pressure spray foam application equipment that mixes at the tip of the spray gun. The two components used to make the spray foam insulation are isocyanate and a resin that when mixed together and sprayed on a roof it expands to form a thick yet lightweight thermal barrier. Spray foam can adhere to almost any roofing substrate including asphalt, concrete, modified bitumen, smooth built-up, metal roofing, EPDM single-ply, and even existing spray polyurethane foam.
The Components of a Spray Foam Roofing System: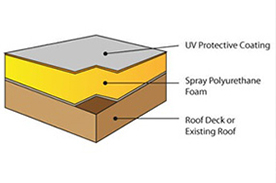 How long has SPF roofing been around?
Spray Polyurethane Foam roofing technology has been around since the early 1960s for industrial, commercial, and residential facilities. An SPF roofing system can be used in any climate, and when correctly installed and maintained, can last over 50 years with proper maintenance.
What are the advantages of a Spray Polyurethane Foam Roof?
Seamless, monolithic, leak-free (creates an airtight barrier that keeps exterior moisture out).
Requires no fasteners, thus eliminating thermal bridging
Self-flashing
No lateral water movement within roof structure
Unlike tar and gravel or single-ply roofs, spray foam systems limit the movement of water.
High insulation value (R-value)
Conforms to irregular shapes and expands to fill cracks
Energy savings (20% - 25%)
Strong adhesion and wind uplift resistance
UV and weather-resistant
Lightweight and high-strength
What is the R Value of Spray Polyurethane Foam?
R value is the capacity of an insulating material to resist heat flow. The higher the R-value, the greater the insulating power. The higher the R value, the less heat or cool air that will pass through. Higher R value = less HVAC use = lower energy costs. Total payback of your new roof usually occurs in less than ten years through savings in heating and cooling costs.
The R Value of an SPF roof is 6.5 per inch
Other roofing Types R Values are:
Metal: 0.00 per inch
BUR Gravel: 0.34 per inch
BUR Smooth: 0.24 per inch
EPS Insulation: 3.85 per inch
Are SPF roofs Eco-Friendly?
SPF roofs create little to no waste during its lifetime. In most cases, there is minimal stripping of the original roof, and the SPF roof is installed on top – eliminating the need for costly roof tear-offs and waste.
The materials that are used for SPF roofing systems are also environmentally friendly:
Zero Ozone Depleting Potential (ODP)
Low in the Emission of Volatile Organic Compounds (VOCs)
Free from Chlorofluorocarbons (CFCs)
Ultra-Low Global Warming Potential (GWP)
From installation and throughout your warranty, the savings of your new SPF can pay off the roof system and save you money down the road.
How do you maintain a SPF Roof?
Proper maintenance of an SPF Roofing system is very simple.
Clean and re-coat every 15-20 years. (by recoating an SPF roof you could qualify for a brand new warranty on the roof).
Building codes vary but you are usually only allowed to have two roof systems installed but recoating is not considered a new roof system.
Inspect annually and after events such as storms that could cause physical damage.
If an inspection reveals damage sustained by the roof, all dents, cracks and punctures less than 3" in diameter can be repaired with caulking or silicone by hand.
More extensive damage should have SPF and coating reapplied. That's it!
What is the process to install a Spray Polyurethane Foam Roof?
The installation of an SPF roof involves a set of procedures that varies slightly depending on the characteristics of the existing roof. Typically, the process can be broken down into four phases:
1) Roof inspection
2) Preparing the roof
3) Applying the foam
4) Applying the protective coating

*Contact your Roof-Star representative for complete details on each one of these steps
Why use a Silicone coating over the Spray Foam?
SPF Roof Systems are waterproof, but not UV proof. The sun deteriorates the Spray Foam quickly, and it then loses its ability to perform. The Silicone coatings put on top of the foam protects against UV rays. Benefits of the silicone coating are:
Once applied, Silicone reflects up to 90% of the sun's rays
This reflectivity lowers both the roof temperature and the interior building temperature, reducing your energy consumption and keeping your building occupants more comfortable.
"The California Energy Commission has concluded reflective roofs can reduce a building's energy use by 20-25%"
Resists ponding water
Won't break down or degrade like acrylics
Best material on the market to deal with changes from cold to hot and back to cold temperatures (Thaw)
Renewable at the end of the warranty period - ability to economically add more coating and end up with a brand-new roof.
How does a Spray Foam Roof save me money?
A spray foam roof helps to reduce your costs to heat and cool your building. In the summer, it reflects the sun's rays to keep the building cooler. In the winter, it traps your building's heat inside to keep the building warmer.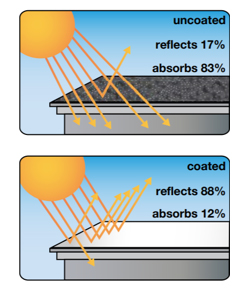 Examples of Spray Foam Roofs in the market
The Louisiana Superdome - opened in 1975 with a Spray Polyurethane foam roof. In the late 70's a hailstorm the size of golf ball left dents in the roof but it did not leak. Over the next 12 years the roof was recoated and never leaked. In 2003 thinking the foam was old it was replaced by a rubber EDPM single ply roof. The manufacturer guaranteed the roof to withstand 130 MPH wind but in 2005 Hurricane Katrina struck the dome with sub 100 MPH winds and completely blew off most of the EPDM roof membrane. Spray foam was wind tested and withstood winds of 200 MPH. The Superdome was redone using Spray Polyurethane foam and it is still working today.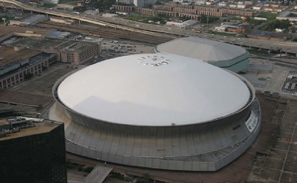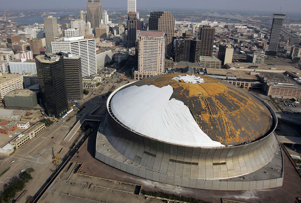 Texas A&M University
Texas A&M University specifies SPF for sustainability.
Over 7 million square-feet of roofing on 27 campus buildings
Problems Tar and gravel built-up roofing (BUR) systems began to leak after an average of five years of service
Solution - spray-applied polyurethane foam (SPF) roofing systems with silicone coatings
Advantages: Applies directly to existing substrate for zero tear-off costs
Improved energy efficiency paid for cost of roofs in 4.5 years
25-year life expectancy with low-maintenance requirements
Decades of leak-free performance
Seamless, self-adhering application
Quick installation for minimal disruption
Environmental responsibility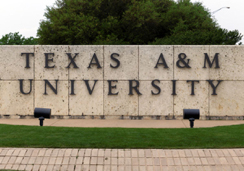 For a FREE Estimate​ ​Call 1.833.250.STAR